Aztec Island
This event has expired on 27 Sep 2014 10:00:00 +0000.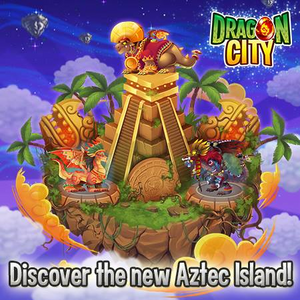 Aztec Island is a Quest Event. This event is available on PC and Mobile. There are 4 rewards you can archive: Aztec Habitat, Aztec Warrior Dragon, Aztec Priest Dragon, Aztec Emperor Dragon
Battle List
Edit
For Pure Nature Dragon, you will need to usea trained attack. See Combat Strategies.
For (L) use a low level Dragon if possible to avoid critical hits.
To discuss Battle Strategy, see --> Thread:188690
Do you like the Aztec Island?
Which reward of the Aztec Island do you like the most?