Ad blocker interference detected!
Wikia is a free-to-use site that makes money from advertising. We have a modified experience for viewers using ad blockers

Wikia is not accessible if you've made further modifications. Remove the custom ad blocker rule(s) and the page will load as expected.
Castle Island
This event has expired on 30 Nov 2014 11:00:00 +0000.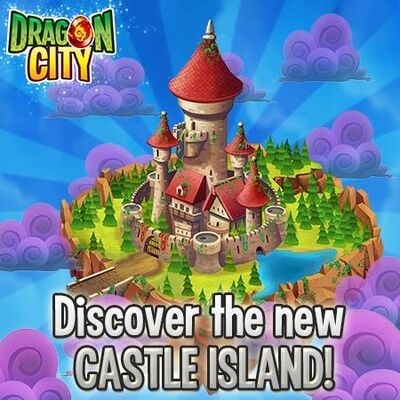 The Castle Island is a mini-game available in Dragon City on Mobile. It was offered on PC (Nov 2013) and iOS (Aug/Sep 2013). You can win the White Knight Dragon and the Black Knight Dragon.
Battles
Level 4-6 Dragons recommended. Look up the page for your Dragons. Choose one that has an attack at Lv 4 that is critical on your opponent. For more information on how Combat works, please refer to --> Combat and Combat Quick Reference.
#

Dragon

Critical

Avoid

1
Medieval
2
Metal
3
Hot Metal
4
Dark
5
Dark Fire
6
White Knight
7
Black Knight




Rewards

If you play this quest, please come here to discuss & share your experience here.

Historical

This Event appered at the first time on Mobile on 27 Aug 2013 and ended on 26 Sep 2013 (30 days).
The PC Event started on 12 Nov 2013 and ended on 19 Nov 2013 (7 days).
This Event came back on Mobile from 21 Nov 2013 to 19 Nov 2013 (10 days).

Castle Island PC

The amount of items needed were: BATTLE (7 items), FLAGS (21 items), CROWNS (21 items), MEDALLIONS (12 items), HELMETS (4 items), HIDDEN OBJECTS (5 items). To get the White Knight Dragon you must collect a certain number of items (56 items). To get the Black Knight Dragon you must collect all items of each type (70 total) and win all Castle Fights!
The battles on PC Event were against: Medieval Dragon, Metal Dragon, Hot Metal Dragon, Dark Dragon, Dark Fire Dragon, White Knight Dragon and Black Knight Dragon.




Castle Island Mobile

Castle Quest is the mobile version of Castle Island for iOS and Android.

Major Changes

First Time:

The duration of the mobile event was 30 days.
The event started on 27 Aug 2013 and ended on 26 Sep 2013.
The amount of items needed on the mobile version was different. They were: BATTLE (10 items), FLAGS (90 items), CROWNS (90 items), MEDALLIONS (26 items), HELMETS (15 items), HIDDEN OBJECTS (20 items).
To get the White Knight Dragon you must collect a certain number of items (200 items).
To get the Black Knight Dragon you must collect all items of each type (251 total) and win all Castle Fights!

Second Time:

The duration of the event was 10 days.




Trivia

Gallery