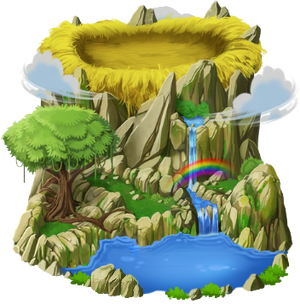 This is the 3rd breeding building in game, along with
Breeding Mountain
and
Ultra Breeding Tree
.
Description: This is where the magic happens too, but this time in a Nest! Put two dragons in and see what comes out! Speedup with Gems if you want to find out faster.
Cost: N/A
Level: 1
Size: 6x6
Limit: 1
This Building is useful for who has the Hatchery upgraded to level 3, and those who likes to breed Legend
Trivia
16/08/2013: Released in the Offer New Starter Pack for new players.
Almost immediately the DBN started displaying problems --> see Known Bugs
The Building will someday soon come to a price for big level players
The Deus Breeding Nest can only breed 1 pair of dragon at a time
Note
The Deus Breeding Nest was reactivated on 9/12/2013.  It is only supported in the PC version at this time.
Gallery
Ad blocker interference detected!
Wikia is a free-to-use site that makes money from advertising. We have a modified experience for viewers using ad blockers

Wikia is not accessible if you've made further modifications. Remove the custom ad blocker rule(s) and the page will load as expected.