Deus Vault
Talk

0
742pages on
this wiki
The Deus Vault has been removed from the game.
People that already bought a Deus Vault are able to keep it as a decoration but it will no longer have a function even if it's still highlighedt as a functional item.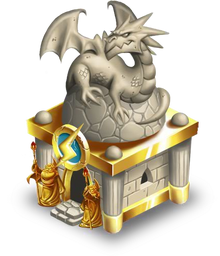 Description :
"Learn formulas and learn to breed special dragons"
Sell : 250,000

Buy : 500,000

XP : 25,000

Lv : 20

Recipe
In order to breed any of the dragons listed below, you will need to buy the formula in the Deus Vault first. Only the dragons listed here can result this dragon.
Gallery
Trivia
On 26/02/2013 the Fossil Dragon receipt is increased from 2 to 5 M
Deus Vault existed on game data since February 14, 2013 but was released on 2/26/2013.
On ??/03/2013 the Sky Dragon receipt is increased from 90 to 250
A bug caused a problem when trying to breed with different dragons other than are listed here.
On ??/03/2013 the Aztec Dragon receipt is increased from 75 to 350 
It is unavailable now.