About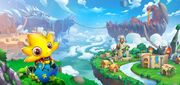 Dragon City is a game on Facebook,made by SocialPoint where you can breed, raise, and sell exotic dragons. What makes this game easier to play is it's lack of 'energy' points that need to be refilled with time, like on most Facebook games. Another nice feature is the gems. While you can buy them, the game makes it very easy to get more for free through a variety of methods such as, leveling, completing certain quests,
Dragon Combat
including PVP in Combat World and in Tournaments.
The object of the game is to breed and raise many dragons to earn gold, with which you can buy more food to feed more dragons to get more gold! Pretty basic.
Dragons
Breeding Dragons is a fun way to increase the number and uniqueness of your Dragon Population, and increase money earned per minute.
Breeding dragons results in a variety of eggs which hatch into baby dragons. Egg types are randomly generated based on the breeding pairs type.
Money
Basic
gold
in the main form of currency in the game. The main form of collection is from the dragons themselves.
Money can also be collected from:

As gifts from friends
de ortiva
Daily Bonus
Completing certain goals
Food
Food
is primarily accumulated in the game by building and harvesting from
farms
.
Food can also be collected from:

Markets
Daily bonuses
As gifts from friends
Completing certain goals
Gems
Gems
are a rarer and more expensive form of money than basic money.
They can be collected by:

Winning a combat in the stadium
Winning a league
Daily Bonus
Monday Reward
Purchased for dollars
Completing certain goals
Completing collections in the Book of Dragons
Dragons
Gameplay
Items
Buildings
Experience Points
Experience points are the only way to
level up
in the game
Experience points are collected by:

Hatching dragons
Building items and buildings
Collecting from farms
Completing certain goals
Gallery