Dragon City Wiki
is the collaborative wiki dedicated to the game,
Dragon City
. All are welcome to edit, add images, and share their knowledge.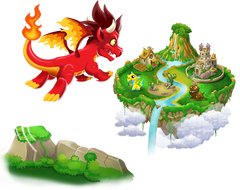 Dragon City is a game on Facebook with the main objectives of Breeding, Raising, Training, battling, and Selling exotic Dragons. One thing that sets this apart from other games on Facebook, is the fact that your objective is sort of like a Pokemon game, to catch them all, this really is elaborate and creates a sense of accomplishment. Another nice feature in the game are Gems. You can buy them with real money, like in most games, or earn them for free through a variety of methods, e.g. competing with your Dragons or completing tasks. If you're new to the game or lost in some point, start (over) with the Basics to master the game.
Ad blocker interference detected!
Wikia is a free-to-use site that makes money from advertising. We have a modified experience for viewers using ad blockers

Wikia is not accessible if you've made further modifications. Remove the custom ad blocker rule(s) and the page will load as expected.