Olympus Island
Talk

0
808pages on
this wiki
Olympus Island
This event has expired on 20 Dec 2013 15:00:00 +0000 .
Olympus Island is a Quest Event. It is available for players level 5 and above. You can win the Olympus Habitat, Poseidon Dragon, Hades Dragon, and Atlas Dragon.
Duration
Start:         Fri, 13 Dec 2013
Duration:   7 days
Ends:         Fri, 20 Dec 2013
Required Items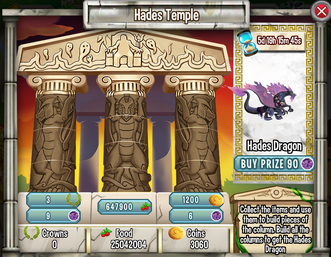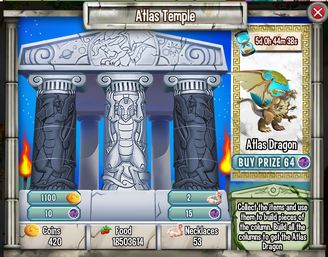 Item
Name
Tooltip
Greek Temple
Poseidon Temple
Hades Temple
Atlas Temple
Buy Item
Gold
Collect Gold from the habitats.
4x
-
-
-
(*)
Food
Collect Food from farms.
-
4x
4x
4x
(*)
Greek Vase
Find and share lost item.

3x(3)

= 9

-
-
-
6
Deus Bolt
Send Gifts to your friends to get Bolts. Your friends need to accept the Gifts.

3x(3)

= 9

-

-
-
6
Trident
Win PvP Battles to receive Tridents.
-

3x(4)

= 12

-
-
12
Omega Coin
Breed dragons to receive one Omega Coin per minute of breeding. Speed up breeding to get all your Omega Coins quickly!
-

3x(900)

= 2700

3x(1200)

= 3600

3x(1100)

= 3300

3/6/10
Olympic Crown
Complete Tournaments to receive crowns.
-
-

3x(3)

= 9

-
9
Necklace
Get Necklaces by inviting friends who are new to the game. Your friend needs to accept the invitation.
-
-
-

3x(2)

= 6

15
(*) The amount of

and

needed will depend of your level and you can't buy them with gems.
If you are playing this event, please share your experiences here.
Historical
The following informations are from the first time this event was released.
Trivia
This Quest Event has a similar structure and layout as The Dungeon and The curse of Dramses quests. It is reasonable that the goals and rewards will be similar. It seems that over-all, Social Point has decreased the requirements to win slightly compared to past quests.
Quest Progress Slideshow