Start: Thurs 6 Nov 2014
Duration: 10 days
End: Sun 16 Nov 2014  
Complete the Pirate Mission by fighting and collecting items around Dragon City.
Defeat a dragon on each step of the map. Face the Octopus Dragon at the end of the road. Beat him to get it!
Complete the Pirate Mission by collecting these items.  Get them all and claim your treasure!
Remember that you can collect more items by using speedups in farming, breeding and combats!
You can collect from breeding, farming , collecting daily items, collecting from habitats and combat wins!
To get the Jellyfish Dragon you must collect 100 items.
To get the Octopus Dragon you must collect all items of each type (114 total) and win all Pirate Fights!
Objectives
Edit
Icon
Name
Action
Tooltip
Requires
PIRATE SWORDS
Fight Here!
Every 12 hours, you have a chance to fight a NPC dragon in the Pirate Mission Map. If you defeat the dragon, you get 1 Battle and complete 1 checkpoint.
10
PIRATE FLAGS
Get Gold
Collect gold from habitats to get the Pirate Flag
The bigger amount of gold, the higher chance you will get the Flag.
30
HOOKS
Get Food
Harvest crops from farms to get the Hooks

30
MESSAGE IN A BOTTLE
Fight PvP!
Defeat player in PvP Combat World to get the Bottles.
14
PIRATE PARROTS
Breed Dragons
Finish breeding your dragons to get the Parrot

6
GROG BARRELS
Get Them Daily
Come back every 12 hours to get the Grog Barrels.
10
Battle Map
Edit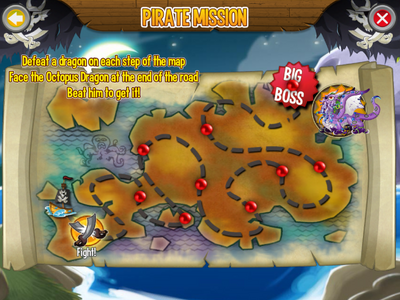 Ad blocker interference detected!
Wikia is a free-to-use site that makes money from advertising. We have a modified experience for viewers using ad blockers

Wikia is not accessible if you've made further modifications. Remove the custom ad blocker rule(s) and the page will load as expected.