Reach level 10 on social empires to recieve an unique Paladin Dragon from the store.
Reach level 20 on social empires to recieve an exclusive Butterfly Dragon from the store.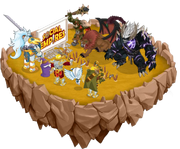 The Social Empires Island (It has an animation of the two sides having a war. Click on it and you will be re-directed to the Social Empires app on Facebook).
These small islands create a link in a new tab to the advetsied game for example: click on the island and a new tab will open up and will re-direct you to the game Social Empires or Social Wars. The Image on the left Advertises Social Empires.
Icons are also re-directions to the selected app. This one re-directs you to Social Empires.
Ad blocker interference detected!
Wikia is a free-to-use site that makes money from advertising. We have a modified experience for viewers using ad blockers

Wikia is not accessible if you've made further modifications. Remove the custom ad blocker rule(s) and the page will load as expected.