Overview
| | | | |
| --- | --- | --- | --- |
| | | | |
| Egg | Level 1-3 | Level 4-6 | Level 7-40 |
and

Lv

Attack

Base

Time

Train Attack

Base

4

Head Butt
788
12 hours

Judo Kick
863
4

Storm
1050
2 days

Whirlpool
1350
8

Hammer Fist
900
1 day

Karate Brick Break
1013
15

Acid Rain
1200
1 day

Hypnosis
1500
Description
Even more watery than you could have ever imagined, this Pure Sea Dragon is also pure fun.  Like a dolphin, always ready to play but very intelligent by nature.
Trivia
Despite having no hands it can learn Hammer Fist in the Training Center.
This is the only dragon, besides the standard Pure, Pure Terra and the Pure Flame, to be able to learn the Hypnosis attack.
The Pure Sea dragon bears a slight resemblance to the Pokemon Suicune, with its signature colors blue, purple and white and a relation with the sea.
This Dragon is the most powerful sea dragon.
This is one of the four Pure Dragons that don't have wings.
Gallery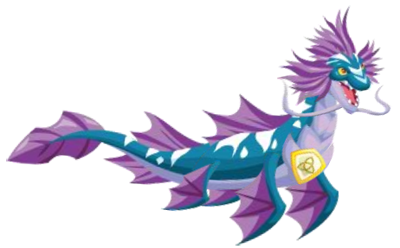 Other Languages