Summer Calendar
This event has expired on 24 Aug 2015 06:00:00 +0000.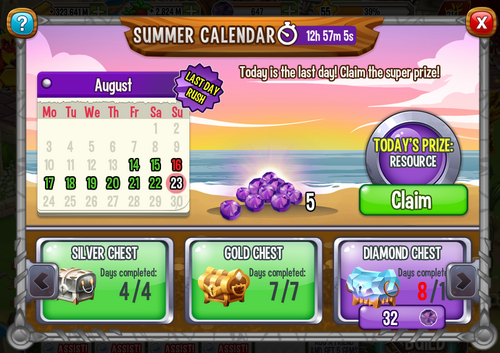 Summer Calendar is a Calendar that offers daily gifts and chests from 14/8/2015 to 23/8/2015.
*Start 14 August 2015
*Duration 10 days
*End 23 August 2015
Gifts @ Lvl 55 / Lvl 99
Edit
Day
Gift
Gift Type
Chest
Hint
1
3
Gems
N/A
 ?
2
88000

99999

Food
Bronze Chest
The more decorations the better ! Tomorrow is decoration day in this calendar
3
Atlantis Fountain
Decorations
N/A
FREE GEMS. Those words are music to your ears so tomorrow... free gems!
4
3
Gems
Silver Chest
There's a free dragon coming and it will arrive TOMORROW!
5
Surf Dragon
Dragon
N/A
Come back tomorrow for fancy, shiny, free gems
6
3
Gems
N/A
A free dragon tomorrow!
Make sure you don't miss it!
7
Ukulele Dragon
Dragon
Gold Chest
Free gems tomorrow, free gems tomorrow, free gems tomorrow!
8
4
Gems
N/A
If you want to know what tomorrow's prize is you'll have to come tomorrow!
9

1M
Gold
N/A
Free gems is never a bad thing so come tomorrow so come tomorrow to get some!
10
5
Gems
Diamond Chest
Congrats! You've finished the Summer Calendar! Stay tunned for the Back to School Calendar !
Released 14, June 2015.
Prior to 20 August 2015 you could tap on the lower part of the cloud between Main and Ice Islands to open the calendar, after Farm Island ended the event Island appeared in that location.
Silver Chest available at Day 4. (1,429,365 , 714,682 , & Dragon Hedge decoration) @ Lvl 99
Diamond Chest available at Day 10. (15 & Double Sea Dragon)
Ad blocker interference detected!
Wikia is a free-to-use site that makes money from advertising. We have a modified experience for viewers using ad blockers

Wikia is not accessible if you've made further modifications. Remove the custom ad blocker rule(s) and the page will load as expected.