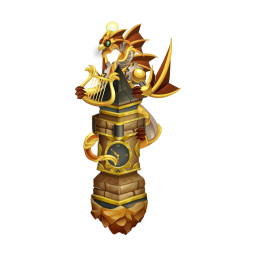 "Neither land nor castles have been home to me. I've come here from the beginning of time. Call me and will reduce the breeding times of your dragons."
Shorten all breeding time by 6 hours. Any times less than 6 hours are reduced to 0.
Minimum time between activations: 6 days.
Tower Information:
Edit
Tower attaches to the Desert Island and unlocks at level 23
Dragon level for max chance (all elements matching): 16
Stage Number 1:
Edit
Bar Range: 30% to 50%
| Quest | Quest Name | Element Required | Buy item | Image |
| --- | --- | --- | --- | --- |
| 1 | THE CENTRAL SQUARE QUEST | | 50 | |
| 2 | THE CITY ROAD QUEST | | 50 | |
| 3 | THE LITTLE VILLAGE QUEST | | 50 | Hi dragon dudes |
| 4 | THE COUNTRY ROAD QUEST | | 50 | |
| 5 | THE GREEN FIELD QUEST | | 50 | |
| 6 | THE YELLOW PATH QUEST | | 50 | |
| 7 | THE RUSTIC LAND QUEST | | 50 | |
Bar Range: 27% to 45%
| Quest | Quest Name | Element Required | Buy item | Image |
| --- | --- | --- | --- | --- |
| 1 | THE PUNCTUAL QUEST | | 60 | |
| 2 | THE ARRIVAL QUEST | | 60 | |
| 3 | THE CLOCK QUEST | | 60 | |
| 4 | THE COUNTDOWN QUEST | | 60 | |
| 5 | THE RUSH HOUR QUEST | | 60 | |
| 6 | THE TIMING GEAR QUEST | | 60 | |
| 7 | THE CHIME QUEST | | 60 | |
Bar Range: 20% to 40%
| Quest | Quest Name | Element Required | Buy item | Image |
| --- | --- | --- | --- | --- |
| 1 | THE LOVE SOUND QUEST | | 70 | |
| 2 | THE MYSTIC HARP QUEST | | 70 | |
| 3 | THE STRINGS QUEST | | 70 | |
| 4 | THE ORCHESTRA QUEST | | 70 | |
| 5 | THE MELODY MOUNTAIN QUEST | | 70 | |
| 6 | THE HARMONIC CURVE QUEST | | 70 | |
| 7 | THE HEAVENLY MUSIC QUEST | | 70 | |