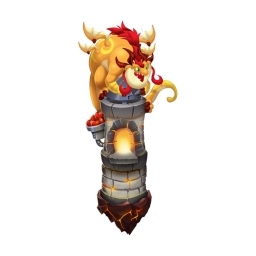 "I have been cooking for so long that I know how to speed up all the recipes. Come to me and I shall make your Food grow faster."
The time remaining to harvesting is reduced 8 hours on all farms. If any farm is less than 8 hours it is reduced to 0.
Minimum time between activations: 4 days.
Tower Information
Edit
Tower attaches to the Lava Island and unlocks at level 15
Dragon level for max chance (all elements matching): 10
Bar Range: 49% to 70%
| Quest | Quest Name | Element Required | Buy item | Image |
| --- | --- | --- | --- | --- |
| 1 | THE CASCADE QUEST | | 30 | |
| 2 | THE ROPE BRIDGE QUEST | | 30 | |
| 3 | THE WATER CAVE | | 30 | |
| 4 | THE WILD RIVER QUEST | | 30 | |
| 5 | THE DARK GROVE | | 30 | |
| 6 | THE IMMENSE FOREST | | 30 | |
| 7 | THE FOREST ENTRANCE QUEST | | 30 | |
Bar Range: 39% to 65%
| Quest | Quest Name | Element Required | Buy item | Image |
| --- | --- | --- | --- | --- |
| 1 | THE CHARCOAL QUEST | | 35 | |
| 2 | THE STOVE QUEST | | 35 | |
| 3 | THE KITCHEN QUEST | | 35 | |
| 4 | THE WOOD FIRE QUEST | | 35 | |
| 5 | THE BLACK SMOKE QUEST | | 35 | |
| 6 | THE OVEN QUEST | | 35 | |
| 7 | THE CAULDRON QUEST | | 35 | |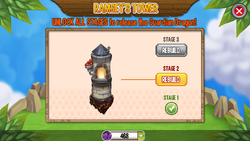 Bar Range: 30% to 60%
| Quest | Quest Name | Element Required | Buy item | Image |
| --- | --- | --- | --- | --- |
| 1 | THE HARVEST QUEST | | 45 | |
| 2 | THE MAGIC SEED QUEST | | 45 | |
| 3 | THE BANQUET QUEST | | 45 | |
| 4 | THE AWAITED RAIN QUEST | | 45 | |
| 5 | THE FRESH QUEST | | 45 | |
| 6 | THE TASTY QUEST | | 45 | |
| 7 | THE GREAT MEAL QUEST | | 45 | |