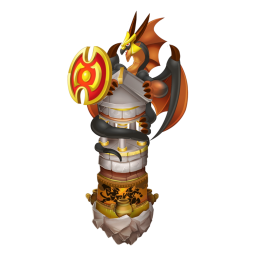 "My strength and skills are acclaimed by dragons, for I do not know defeat. I can turn your dragons into winners."
Increases the damage and hitpoints of your dragons in combat by 20% for 1 hour. Applies to PVP, Stadium, and Mini-Game combat.
Minimum time between activations: 1 day and 5 hours.
Tower Information
Edit
Tower attaches to the Ivory Island and unlocks at level 17.
Dragon level for max chance (all elements matching): 13
Bar Range: 42% to 70%
| Quest | Quest Name | Element Required | Buy item | Image |
| --- | --- | --- | --- | --- |
| 1 | THE ATTACK QUEST | | 40 | |
| 2 | THE BATTLEFIELD QUEST | | 40 | |
| 3 | THE COMBAT QUEST | | 40 | |
| 4 | THE COUNTERATTACK QUEST | | 40 | |
| 5 | THE WAR HERO QUEST | | 40 | |
| 6 | THE VICTORY QUEST | | 40 | |
| 7 | THE HONOR QUEST | | 40 | |
Bar Range: 39% to 65%
| Quest | Quest Name | Element Required | Buy item | Image |
| --- | --- | --- | --- | --- |
| 1 | THE INSPIRATION QUEST | | 50 | |
| 2 | THE DRAWING QUEST | | 50 | |
| 3 | THE ROUGH SKETCH QUEST | | 50 | |
| 4 | THE EXHIBITION QUEST | | 50 | |
| 5 | THE DETAIL QUEST | | 50 | |
| 6 | THE COLOR EXPLOSION QUEST | | 50 | |
| 7 | THE TILE QUEST | | 50 | |
Bar Range: 30% to 60%
| Quest | Quest Name | Element Required | Buy item | Image |
| --- | --- | --- | --- | --- |
| 1 | THE HERO QUEST | | 60 | |
| 2 | THE AMULET QUEST | | 60 | |
| 3 | THE SHINY HELMET QUEST | | 60 | |
| 4 | THE SOLID SHIELD QUEST | | 60 | |
| 5 | THE ARMOR QUEST | | 60 | |
| 6 | THE BREASTPLATE QUEST | | 60 | |
| 7 | THE INVINCIBLE QUEST | | 60 | |