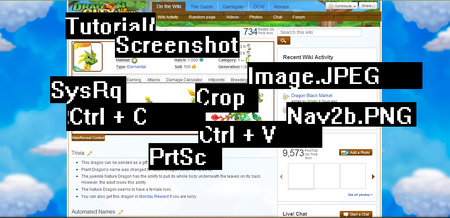 Take a PC Screenshot
Edit
Wait for your main characters to reach a suitable pose, then...
Press PrintScreen (sometimes labelled PrtSrc/SysRq/something else) key to take a screenshot
Open your favourite Photo Editing program.
Paste the screenshot from your Clipboard (usually Ctrl-V or Edit-Paste from the menu)
Crop the image to remove unnecessary & private information (your account details, advertisements, the rest of your screen...)
Save and Name your image following our naming convention as follows.
Enabling AssistiveTouch
Edit
--> Settings
--> General
--> Accessibility
--> AssistiveTouch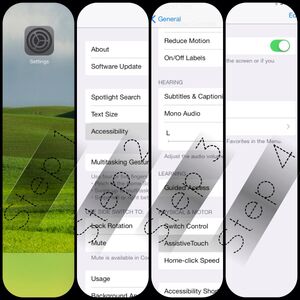 Take a iP* Mobile Screenshot
Edit
Wait for your main characters to reach a suitable pose, then...
--> AssistiveTouch
--> "Device"
--> "More"
--> "Screenshot"
--> Upload the image directly through the browser or through your PC
Posting a Screenshot from PC
Edit
Go to the page where you wish to post your screenshot
Click on the "Photo" button
Click "Choose File", choose the screenshot you want to upload
Click "Upload"
Select appropriate settings as you wish
Click "Add Photo"
Click "Publish" / "Submit"
When capturing an image, try and use the highest quality source. Most people would prefer to see a higher quality smaller image then a fuzzy large image.
Try not to use a fullscreen video and take screencaps via Printscreen or the equivalent. This will stretch videos on larger monitors, and lead to unnecessarily large files.
Lastly, make sure its appropriate for the wiki and page you are submitting it on.
The Convention for file names is:
<username>_<short description>_<file number>.png
e.g., polly23_atlas_dragon_rampage_2.png (Polly23's 2nd screenshot of her Atlas Dragon on rampage)
PNGs (Portable Network Graphics) are preferred, as they deliver better quality at a small file size. You may use JPGs (Joint Photo Experts Group) quality, but be aware that it will compare poorly with PNGs.
Having a descriptive file name makes it easier for you and others find images in storage -- we have hundreds of images, and the number is growing every day.
Don't use any offensive words in image titles/names. Offending images will be deleted.
Remember:Make it sure to crop it properly. Don't post your whole photo with personal account, resources and unimportant things, or you will receive a 3-day ban.
Ad blocker interference detected!
Wikia is a free-to-use site that makes money from advertising. We have a modified experience for viewers using ad blockers

Wikia is not accessible if you've made further modifications. Remove the custom ad blocker rule(s) and the page will load as expected.