Viking Island
Talk

0
1,459pages on
this wiki
Viking Island
This event has expired on 31 May 2014 22:00:00 +0000.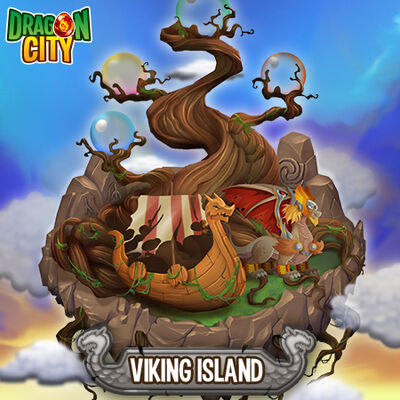 Viking Island is a Quest Event for Dragon City on either platform at times. This quest is only available for level 5 players and above. You can win the Viking Habitat, Thor Dragon, Loki Dragon, and Odin Dragon.
Battle Map
Historical
This event appeared for the first time on 07 Aug 2013 and ended on 06 Sep 2013. Below, you can find the informations about the first Viking Island.
Trivia
This Quest Event has a similar structure and layout as Olympus Island, The Dungeon and The Curse of Dramses quests. It is reasonable that the goals and rewards will be similar. It seems that over-all, Social Point has decreased the requirements to win drastically compared to past quests.
This is the first Quest in the Elemental Quest series that has affordable food costs and does not require friend invites.
When you've broken all the glass pieces you'll need to fight the Dragon you'll win, but if you spent gems on breaking the last piece of glass you'll win the Dragon without having to fight it.