Viking Island
Talk

0
1,118pages on
this wiki
Viking Island
This event has expired on 24 Feb 2014 11:00:00 +0000 .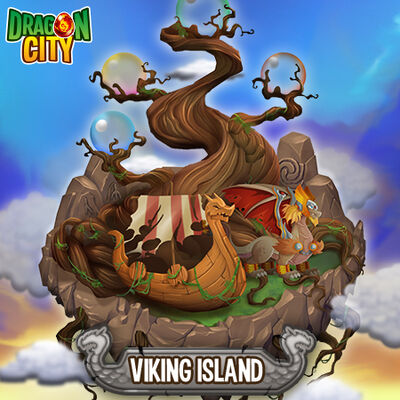 Viking Island is the latest Quest Event for Dragon City. This quest is only available for level 5 players and above. You can win the Viking Habitat, Thor Dragon, Loki Dragon, and Odin Dragon.
Duration
Start: Fri, 14 Feb 2014 14:00:00 +0000
Duration: 9 days 21 hours
Expire: Mon, 24 Feb 2014 11:00:00 +0000
The Mini-Game
Each quest is unlocked when the previous quest is completed.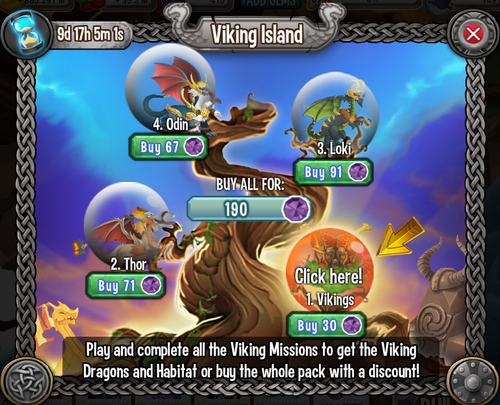 Required Items
Item
Name
Tooltip
Viking Habitat
Thor
Loki
Odin
Buy Item
Gold
Collect gold from habitats and use it to break pieces of the glass.
4x
-
-
-
(*)
Food
Collect food and use it to break pieces of the glass.
-
4x
4x
4x
(*)
Hammer
Come back every 8 hours and get one Hammer.




-

3x(3) = 9 

3x(2)

= 6

-
7/9
Horn
Send gifts to your friends and get Horns when your friends accept them.

3x(3)

= 9

3x(6)

= 18

3x(8)

= 24

3x(8)

= 24

3/4/4/2
Helmet
Invite friends to receive Helmets.
4x(4)

3x(800)

= 2400

-

3x(1200)

= 3600

5/3
(*) The amount of

and

needed will depend of your level and you can't buy them with gems.
Rewards
If you play this quest, please come here to discuss & share your experience here: Viking Island.
Historical
This event appeared for the first time on 07 Aug 2013 and ended on 06 Sep 2013. Below, you can find the informations about the first Viking Island.
Trivia
This Quest Event has a similar structure and layout as Olympus Island, The Dungeon and The curse of Dramses quests. It is reasonable that the goals and rewards will be similar. It seems that over-all, Social Point has decreased the requirements to win drastically compared to past quests.
This is the first Quest in the Elemental Quest series that has affordable food costs and does not require friend invites.
When you've broken all the glass pieces you'll need to fight the Dragon you'll win, but if you spent gems on breaking the last piece of glass you'll win the Dragon without having to fight it.