For each of the four parts of the quest, you will be required to collect items and expend resources.
Required Items
Icon
Name
Action
Tooltip
Vikings Quest
Thor Quest
Loki Quest
Odin Quest
Gold
Get Gold
Collect gold from habitats and use it to break pieces of the glass.
4x
varies
-
-
-
Food
Get Food
Collect food and use it to break pieces of the glass.
-
4x
varies
4x
varies
4x
varies
Hammer
Get Them Daily
Come back every 12 hours and get one Hammer. Use Hammers to break pieces of the glass!
3x
1
-
3x
3
-
Horn
Request Friends
Send gifts to your friends and get Horns when your friends accept them. Use Horns to break pieces of the glass.
3x
4
3x
14
3x
30
3x
54
Helmet
Get From Breeding
Breed dragons to receive Helmets. Use Helmets to break pieces of the glass.
-
3x
1600
-
3x
6400
Gold Requirement Formula: 


(Round to the nearest hundred)
Food Requirement Formula: Thanks Andibad for the formula
Thor


Loki


Odin

Parameters: These value are constant, it won't be changed even if you get level up later.
Level: Level on begining the Vikings Quest
Farms: Maximum farms can be built by the Level, see Farms Limit
For example, breed dragons for:

hours to complete Thor Quest
hours to complete Odin Quest

Note: You will NOT get Helmets for Hatching.
Resource Payment Table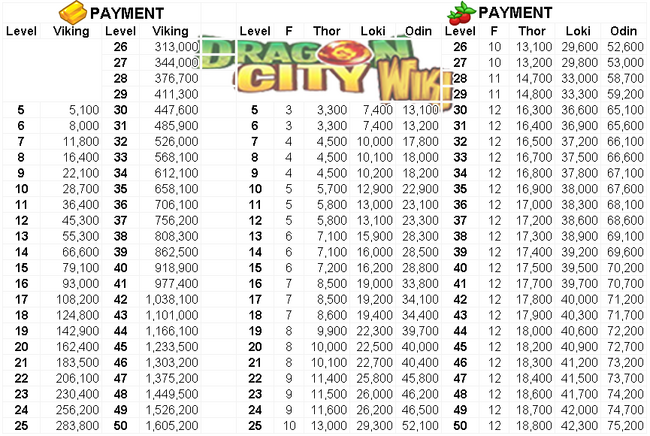 Ad blocker interference detected!
Wikia is a free-to-use site that makes money from advertising. We have a modified experience for viewers using ad blockers

Wikia is not accessible if you've made further modifications. Remove the custom ad blocker rule(s) and the page will load as expected.