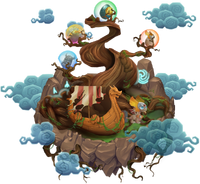 Start:  07 Aug 2013 22:00:00 +0000

The actual time was 1 day later

Duration:  30 Days 0 Hours (fixed time)
End:  06 Sep 2013 22:00:00 +0000
There are Four Chapters of the Viking Island.
After completing each chapter, you will win a prize. Each chapter has different prize to win, as follows:
Ad blocker interference detected!
Wikia is a free-to-use site that makes money from advertising. We have a modified experience for viewers using ad blockers

Wikia is not accessible if you've made further modifications. Remove the custom ad blocker rule(s) and the page will load as expected.